EXIM INDIA's CTL 2011
, saw a gathering of leading speakers and panelists, policymakers and informed delegates, experts and analysts and top class exhibitors who deliberated on what is and what should be with impassioned views, suggestions, probing queries and solutions, the positives and shortcomings, the possibilities and necessities, the policy impediments and regulatory roadblocks in making India a world leader in ports and shipping, associated infrastructure and connectivity, and logistics as a whole.
This CTL 2011 international conference and exposition which was held at the Bombay Convention & Exhibition Centre on December 8, 9 and 10 had it all from well attended sessions of the conference to increasing footfalls over three days at the exposition and the event was appreciated by one and all.
The conference was a vibrant and invigorating two days
(December 8, 9)
spread across five technical sessions (focused on specific segments of the sector), in addition to the inaugural session and valedictory session. Be it cargo support for Indian-flagged vessels, call for relaxation of cabotage, operational autonomy for private container train operators, logistics to be declared an industry under a single policymaking body, creating tomorrow's infrastructure needs today, or uniting all segments of the industry under a Federation of Maritime and Logistics Associations of India, the propositions were varied and relevant.
They were put forward in an interesting conference format having a mix of presentations and panel discussions, which was complemented by incisive queries and insightful comments from participating delegates. Be it the gently suggestive tone of Mr D. T. Joseph, authoritative assertions of Prof. G. Raghuram, erudite opinions of Mr S. N. Srikanth, perceptive views of Mr S. Hajara or candid observations of Mr L. Radhakrishnan, among the views of nearly 40 speakers and panelists, the CTL 2011 conference provided ample food for thought and action for bringing about a sea change in the cargo, transport and logistics sectors.
These were the opinions expressed by the speakers and panelists on
Day 1 (December 8)
of the conference at the Inaugural session and the three technical sessions.
The Inaugural Session
set the tone for the five technical sessions to follow, with different aspects of the theme -
Seamless Logistics & Related Infrastructure: Challenges & Way Ahead
of the conference.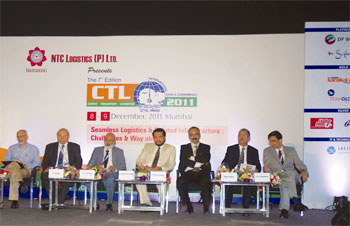 Giving the welcome address, the Conference Chairman
Mr D. T. Joseph,
IAS, Former Shipping Secretary, said, "The maritime industry should never give up, be persistent and keep talking of the same thing again and again to make things happen." Such conferences he feels has constantly helped in highlighting issues and concerns which he strongly felt would surely lead the government to take notice at an appropriate time. He added, "It is time we formulate certain issues, benchmark these issues and try to regulate them."
Prof. G. Raghuram,
IIM Ahmedabad, giving his opening remarks spoke about 'macro issues' and the need for emphasis on 1) scale and utilisation in Indian ports: how do we work towards this and how do we modernise?; 2) hub ports for container transhipment: "Why it is that hub ports are not growing in India? Why isn't Indian ports hubbing for international ports? If Colombo can hub into India, why can't Vallarpadam hub into Sri Lanka? Why can't JNPT hub into Jebel Ali rather than the reverse or why can't Mundra hub into Jebel Ali? and, 3) connectivity: he stressed that rail share has to increase, PPP framework is not proactive, either in terms of port connectivity or service and they are bogged by 'double standards'.
Mr S. N. Srikanth
, Founder & Senior Partner, Hauer Associates made the theme presentation and came out strongly against the policy paralysis, pointing out that projects are being delayed due to a variety of reasons such as bureaucracy, red tape, litigation, land acquisition, etc. He feels, "There is a paralysis in decision making. Bureaucracy seems determined to delay and deny but never to decide. The wheels of government appear to be grinding to a halt."
Mr Bimal Kanal
, Regional Director, Indian Subcontinent, Safmarine, who was the Guest of Honour, emphasised on strong partnerships to enhance India's growth and infrastructure and highlighted Safmarine's range of services in this "core market".
Mr S. Hajara
, CMD, Shipping Corporation of India who was also the Guest of Honour, underscored that the country cannot afford policy paralysis given the growth and cargo handling projections and the fast-changing global economic scenario. He stressed the need for seamless integration of the different modes of transport and the allocation of investment in water transport to radically change."
Mr Pankaj Kumar
, IAS, VC & CEO, GMB, in his keynote address, asserted that there is no policy paralysis in Gujarat where crisis is seen as an opportunity. He outlined the progress made by Gujarat.
Mr L. Radhakrishnan
, IAS, Chairman, JNPT was the Chief Guest at the event. In his address he stressed the huge requirement of investment in dredging. He felt the need for some sort of public-private
partnership model to be evolved, and corporatisation of Major Ports as it would enable them to attract private partners and take on the role of a landlord port.
The
First Technical Session
was on
Transforming Indian Ports to World Class Facility.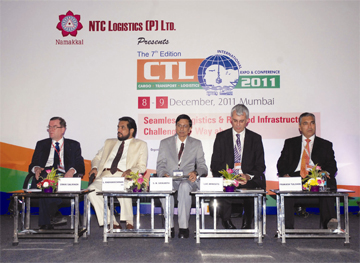 Mr S. N. Srikanth,
Founder & Senior Partner, Hauer Associates was the Session Chairman & Moderator. He called up the speakers one by one to give in their insights.
Mr Luc Arnouts, CCO,
Port of Antwerp opened up the session saying that the Port of Antwerp is a multifunctional port with the logistics, the industry and the cargo handling being interactive with each other. He further added that they need to take a more proactive role and found the connectivity with foreland to the hinterland important.
Mr Erkki Salminen,
Sales Director Ports, Nordic, East Europe & India, Konecranes Finland Corporation felt India is in the acceleration stage and so he briefed about their growing business in India. Next to be called was
Mr L. Radhakrishnan,
IAS, Chairman, JNPT who felt the need to catch up with China in terms of overall logistics efficiency. Major Ports have to be corporatised and coastal states need to provide more policy initiatives, he stressed.
Mr Prakash Tulsiani,
MD, APM Terminals Pipavav concluded the session saying, "The present lull will only be for a short time and there will be growth in India again."
The Second Technical Session — Impact of Global Economic Scenario & Technological Advances on India's Ports & Logistics Sector
had
Mr M. P. Pinto, IAS, Former Secretary, MoS
as the Session Chairman & Moderator.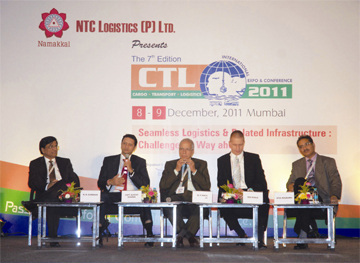 He called upon
Mr Bas Huele, Director-Customer Service - India & Sri Lanka, Maersk Line India Pvt. Ltd,
who said, "Before shipments used to be ad hoc. But now containerisation has revolutionised and stimulated global trade. It has linked markets and brought a lot of development to a lot of companies. It has actually reduced cost for customers by about 35 per cent." He further said that Maersk has identified three pillars they need to improve on to take business to the next level: cargo reliability, ease of business and environmental performance. As moderator of the session Mr Pinto asked
Capt. Alpesh Sharma,
CEO, DP World Nhava Sheva, about the advantage they had on being the first to be in the market, to which Capt Sharma said, "The advantage of coming in first is that there is a ready market and no competition. But you also don't have any guidelines or benchmarks. So you have to chart your own path. And over a period of time, the advantages could turn into disadvantages. You sign an agreement with the government as per the initial policy, only to realise down the line that certain things have been missed. The next terminal can correct them but you are stuck with the old policy. TAMP rules today don't give fair value to the investor." When
Mr Atul Kulkarni,
CEO, Chowgule Ports & Infrastructure Pvt. Ltd, was called upon to speak on the advantages of having a Greenfield port, he said that the new greenfield port entrant has certain advantages as it allows deciding what market you want to serve, what services you want to offer, etc., and thus have the option of picking that upfront. "A greenfield port is a better option, where you can be a long-term player. Private sector needs to be kept out of tariff regulation", he added. Finally,
Mr N. M. Kumbhar,
GM - Logistics, Bhushan Steel Ltd, giving his insight said that while infrastructure has improved vastly over the years, the reality is that if you look at facilities in the port or facilities around the port, the shipper still faces problems. He stressed the need to upgrade our ports, CFSs, and the area outside the ports, coastal shipping and inland waterways.
The Third Technical Session
dealt on the topic,
Technology, Training & State-of-the-art facilities.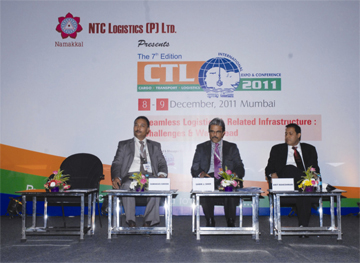 Mr Samir J. Shah,
Director, JBS Academy Pvt. Ltd & Partner, JBS Group of Companies who was the Session Chairman & Moderator, gave his keynote address on the topic that, growth through state-of-the-art facilities, technology and training will be the main drivers of the logistics industry and that training should be structured and not disproportionate to what is required. He also strongly felt that government should look at logistics as a standalone industry."
Mr Amit Maheshwari,
CEO, Softlink Global Pvt. Ltd, agreeing with Mr Shah said, "IT penetration doesn't just mean using Excel and email. IT penetration means we should be able to integrate operations and our managers should be able to take informed decisions. Things are slowly changing in the industry, with people taking the initiative for training and realising the power of IT. But we still have a long way to go, with both users and the industry."
Mr Subhasis Ghosh,
MD, APM Terminals India Pvt. Ltd, joined the discussion saying, "If I look at the main parameters of what makes a CFS/ICD successful, the first would be location; the second, and this is where IT fits in, would be infrastructure, the bouquet of services provided and how does infrastructure enable that; third would be service level, where training and IT systems come in a big way, which includes not just software applications but hardware and network; and the fourth being relationships."
To conclude on the Technical Sessions of Day 1,
Prof. G. Raghuram,
IIM Ahmedabad made a
Special Address,
that, "We must also go whole hog in road infrastructure development. For port connectivity, we should be thinking in terms of expressways. Railways want new players to create terminals, which I think is not the right way. In fact, they should separate the terminals from the movement part."
Day 2 started with the
Fourth Technical Session
which was on
Hinterland connectivity & related infrastructure — Current status, challenges & outlook.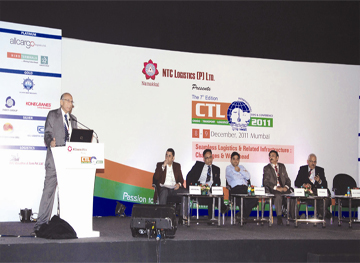 Mr K. C. Jena,
Former Chairman, Railway Board & National Chairman, the Chartered Institute of Logistics & Transport who was the Session Chairman & Moderator felt Railways is much more energy-efficient, environment- friendly and thus has to formulate a customer-centric and market-focused policy in design and delivery of services. He also felt the need for more dedicated freight corridors on routes such as Delhi-Chennai, Kolkata-Mumbai and Chennai-Goa.
Mr Satya Prakash,
Additional GM, Central Railway, briefed that the ports are major source of freight movement for the Railways and thus the coming up of new ports would be a win-win situation for the Railways as well as those who are in port operations.
Mr P. N. Shukla,
Director/OP&BD, DFCCIL, who was called in to give his views spoke basically on the development being made by the railways, wherein, Phase 1 of the corridors is proposed to be opened in 2013/14; the final opening of the eastern corridor for December 2016 and the western corridor March 2017.
Dr L. R. Thapar,
MD, Rail Operations, Hind Terminals, joined in to say, "Railways has to treat private operators as partners. The consultation process needs to be strengthened. There should be independent regulation of the policies as policies sometimes tend to be one-sided. There should be revision of policies from time to time and the grievances addressed. Government should look at the current ban on leasing of land to private parties so that terminal development issues can be addressed. The private freight terminal policy should address the concerns of private freight train operators and incentivise them to invest. Synergy and co-operation among operators should be strengthened given the current market scenario."
Mr Girish Belwal,
AGM-Logistics, ISGEC Heavy Engineering Ltd, stressed for a need for more port capacity in east and south India, ports which are efficient and have deeper draught; the need for transparency in fixing freight rates; the need for export cargo to be allowed to move unhindered through states to ports; and that all Major Ports should have 8-lane road connectivity
and non-major ports 4-lane road connectivity.
Mr Abhaya Agarwal,
Executive Director & PPP Leader, Ernst & Young India, concluded that with DFC, the Railways would be able to garner new markets, energise the Delhi-Mumbai industrial corridor and give a major fillip to overall economic growth and transportation.
After a sumptuous lunch break, the
Fifth Technical Session
started, which saw the speakers and panelists discussing the topic:
SEZs, warehousing & supply chain logistics: The need for global standards & synergy.
Mr Saibal De,
Chief Executive-Ports, IL&FS Maritime Infrastructure Co. Ltd, was the Session Chairman & Moderator who felt the need to optimise the system in logistics and learn quite a bit in terms of technology, service efficiency, sorting out problems and an institutional structure. He then introduced and called upon
Mr Faisal al Balushi,
Projects & Contracts Manager, Sohar Industrial Port Company SAOC, to highlight on his port. Mr Balushi said, "Port of Sohar, developed as a world class industrial port, provides a very good base for downstream industries to come through the free zone. We have set up a framework where everything is available in one place and is in good order, creating a friendly environment for investors. The zone is a public-private partnership project, which creates economies of scale. We have benchmarked it against successful free zones like Jebel Ali."
Mr S. J. Vijay,
MD, Salmon Leap Associates India when called upon to give his thoughts said that the SEZ Policy, which was supposed to be the engine for economic growth in this country, hasn't delivered. SEZs, however, could get a boost by projects like DFC, DMIC, North-South Corridor and National Manufacturing Policy.
Mr Saurav Ghosh,
Head-Transport, Handling and SCM, Arshiya International Ltd, joined to say that India, with its high logistics costs, presented a $60 billion opportunity in FTWZs and so they are looking at FTWZs as an integrated play and as a total logistics solution; hubbing is one of the most important aspects of their FTWZs.
Mr Kenneth Eccles,
CEO-CFS/ICD/Warehousing Division, Allcargo Logistics Ltd, too felt that the opportunities in India are tremendous but the logistics industry isn't considered attractive enough and so the market here needs to wisen up a little as it is cost-driven as opposed to being value/solution- driven.
Mr Anand Sheth,
President, AMTOI, felt, "There needs to be a paradigm shift in the vision of policymakers. In infrastructure, we need to look 20 years ahead. We need simple policies that are easy to comply with. We need integrated policies between centre and states and delegation of powers to the port authority. Open up coastal shipping to foreign flags, incentivise IWT, set-up special courts for infrastructure-related projects and give logistics industry a status. The authorities need to look at the registration end and not licencing. We need a reconciliation body/single window redressal mechanism."
Mr Sumeet Nadkar,
CEO & MD, Kale Logistics Solutions, was then called upon to give his views, who felt the need for major investment in infrastructure, need for more automation in the movement from shipper to consignee, need to make sure that we have systems/platforms for digital exchange of information and also the need to have, in the first place, electronic data to interchange and a greater need for emphasis on reengineering the processes.
Mr G. Kannan
, Head Logistics, Larsen & Toubro, went on to add that there are major challenges in logistics and so there is a need for a National Logistics Commission and a need for this industry to get industry status.
The Day 2 ended with the
Valedictory Session,
with
Capt. Dinesh Gautama,
Advisor, CSLA acting as a Moderator summed up that a little bit of consolidation is bound to take place in liner shipping and that volumes are going to rise and, with consolidation, the freight levels will also tend to rise a little bit.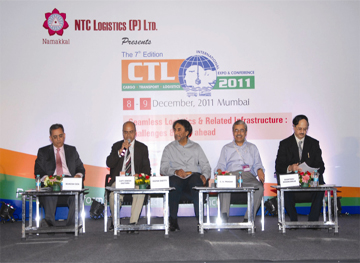 Mr Mukesh Oza,
CEO, Samsara Group, opined that we don't need TAMP, we need a body that will facilitate and promote trade, not a body which is actually going to pull us down. The government needs to set up, like IAS, IRS, IPS, the Indian Logistics Service or ILS. This will enable the formation of a dedicated cadre of officers who can take up positions in ports and other locations to serve the logistics industry.
Mr Shantanu Bhadkamkar,
Chairman, FFFAI, agreeing on what Mr Oza said, felt the need to talk in one voice and come together.
Mr C. S. Prasad,
IRS, Chief Commissioner of Customs, Jawahar Customs, who was the Guest of Honour for the valedictory session said, "Though revenue is the prime concern of Customs, its endeavour is also to facilitate so that slow, cumbersome and non- transparent procedures are improved upon and transaction cost for the trade is reduced. However, Customs is only one of the facilitating agencies. We plan to increase co-ordination with other agencies to benefit the trade."
Mr Deepak Shetty,
IRS, Joint DG Shipping joined in to deliver his Valedictory Address as Chief Guest. He said, "Logistics is an extremely contemporary and futuristic business activity. It has the four attributes of seamlessness, scalability, interoperability and a modular aspect to it. Even in the current era of despair and gloom in the economy, the service sector, not only in India but globally, has clocked healthy growth of around 31 per cent+ on an average for 31 consecutive months. So there is indeed room for optimism. In the draft Coastal Shipping Policy, we are recommending the need for a Logistics Corporation, to be supported by CONCOR and SCI. We are looking at an e- platform where you can actually transact in terms of business opportunities and meeting the demand and supply equations. In our 12th Five-Year Plan policy document, we have recommended, as a policy thrust, encouraging a modal shift away from roads. We at DG Shipping believe that a few years down the line, the MTO branch of this office will probably emerge as one of the key service providers. We are also looking at possible gradation of MTOs through a set of calibrated parameters, and aiming at facilitating technology enablers and differentiators. Logistics needs to contribute to sustainable development. The three mantras it has to follow are efficiency, timeliness of delivery and cost-competitiveness."
CTL 2011 thus had it all — a stimulating and invigorating conference programme, exhibitors showcasing their products and services from their brightly-designed stalls, top speakers and panelists, enthusiastic delegate participation over the three days, interactive format, networking opportunities with sectoral peers and a chance to meet policymakers and regulators.
A food for thought and action was the general opinion.
As with all the previous Exim India events, CTL 2011 Lucky Draw too saw top prizes attract enthusiastic participation from the large number of delegates/visitors.
Networking Cocktails & Dinner on Day 1 was enjoyed by the trade at large. Here are few glimpses of the same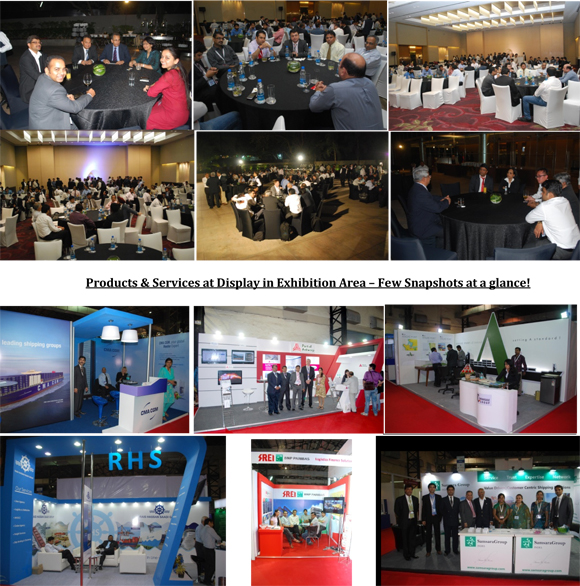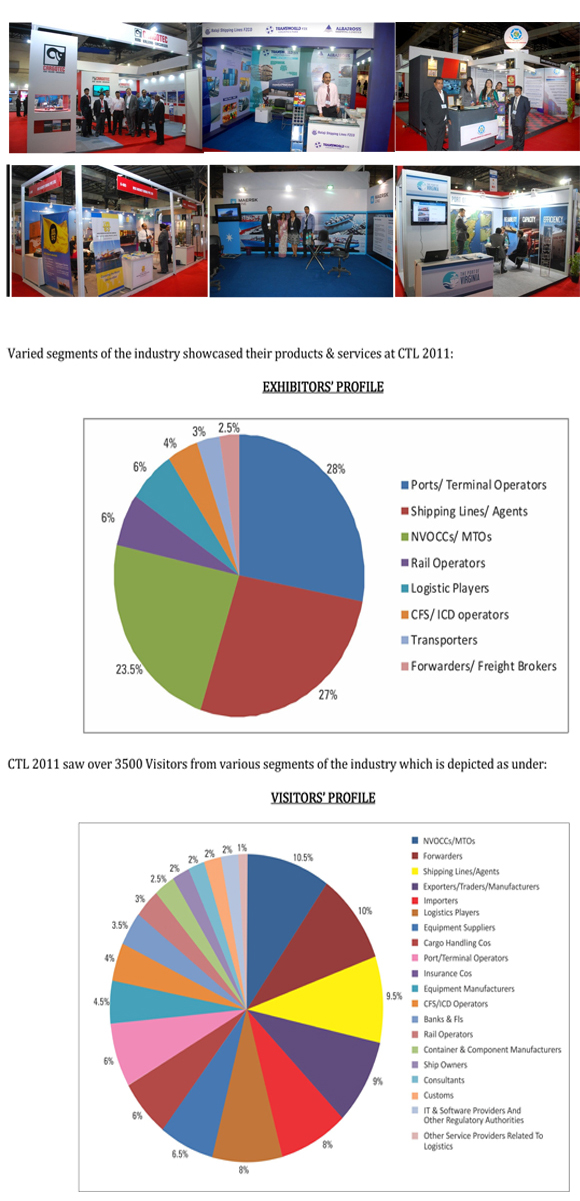 Trade Reviews for CTL 2011!

The event was well coordinated, and the topics and speakers selected were very relevant. On the exhibition side we were able to engage with many relevant stakeholders, and we got some good insights and leads out of this.

- Mr Bas Huele
Director Customer Service India & Sri Lanka
Maersk India Private Limited

---

The quality of the speakers and audience was high and fervent. The feature of stalls and lay out plan at Exhibition was par excellence.

- Mr Girish Belwal
AGM Logistics
ISGEC Heavy Engineering Ltd

---

As usual the show was demonstration of your strength and personal relationships with the industry stakeholders. We thank you for giving us the opportunity to be associated and look forward to continued association.

- Mr Atul Kulkarni

---

We would like to give you three cheers for organising such beautifully the CTL 2011, hats off.

- Mr Haresh Makwana
General Manager
Vini Container Lines Pvt Ltd

---

Please do accept my congratulations to you on bringing together important people from Industry and providing an educative and interactive program.

- Mr G. P. Krishnan,
Group Head Risk, Controls & Compliance
Samsara Group

---

Heartiest congratulations and best wishes for the successful concluding of 7th Edition of CTL. Stalls have been put up very well, and I saw good no of visitors.

- Mr Sankaranarayanan
Neptune Container Line And Loogistics Pvt.Ltd,

---

It was a well organised trade fair.

- Mr Nikhil Mondkar
Area General Manager – Maharashtra & Central India,
CMA CGM Agencies India Pvt. Ltd.

---

It was pleasure meeting you and your effort to address key issues to policy makers are highly appreciated.

- Capt Pankaj Kumar
Country Head
Plimsoll Shipping & Logistics Pvt Ltd

---

It was a well orgainsed event, every time to set higher standards to be exceeded the next time.

- Mr Shantanu Bhadkamkar
Chairman - FFFAI

---

Please accept my heart congratulations on yet another most successful and impactful edition of CTL.

- Mr Sumeet Nadkar
CEO & MD
Kale Logistics Solutions Pvt. Ltd.