Past Event Report
Page-1
Page-2
Page-3
Page-4
Page-5
Page-6
Page-7
9th Edition of CTL – BHP 2016 facilitate stimulating interaction, wide-ranging expo, learning opportunity & focused networking
Mr Anant G. Geete, Honourable Union Minister of Heavy Industries & Public Enterprises, inaugurated the exposition at the 9th edition of CTL (Cargo, Transport, Logistics) 2016 concurrent with BHP (Break Bulk, Heavy Lift & Project Forwarding) 2016 International Expo and Conference held on February 18 and 19, 2016 at the Bombay Exhibition Centre, Goregaon, Mumbai.
He was joined at the inauguration ceremony by key dignitaries from India and abroad. He subsequently went around the booths.
He made a pitch for the logistics industry to be given industry status and promised any help needed from his Ministry to achieve this objective.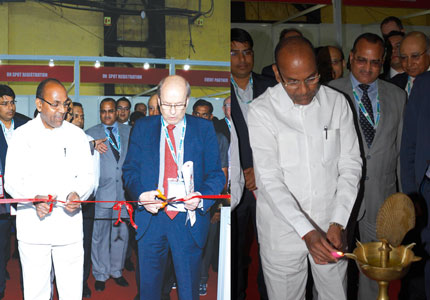 Mr Anant Geete (left), Union Minister of Heavy Industries & Public Enterprises and Dr VeitSteinle, Head of Department for Policy Issues, Federal Ministry of Transport and Digital Infrastructure (Germany), inaugurating the expo
He emphasised that the logistics sector in India has huge potential to grow and provide employment to the youth.
He pointed out at the conference that boosting the maritime and logistics sectors was among the top priorities of the government, which includes providing the necessary connectivity. He expressed happiness that two projects in his home turf, the Jaigarh and Dighi ports, were the initial facilities chosen to be part of this initiative.
He also highlighted the Prime Minister's 'Make in India' initiative, which would bring together people from all over the world to invest in India. The country is one of the safest and most secure places in the world for investors, he stressed. He also touched upon complementary initiatives like 'Skill India' and 'Start-Up India'.
Mr Geete expressed happiness on the participation of a large German delegation in the conference, making the point that a lot could be learnt from Germany in the maritime, engineering and other sectors.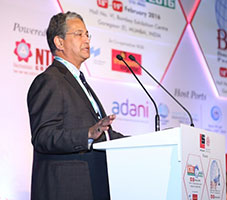 Earlier, Dr Vishwapati Trivedi, IAS, Chairman of National Shipping Board, and Chairman of the Conference, talked about the importance of safety in heavy cargo movement, and said that companies follow the international and domestic rules and regulations in this regard out of conviction rather than because they are there.
It is in the "culture" of certain companies to focus intently on safety and training, he said.
He also touched upon the benefits of Sagarmala, especially for coastal shipping.
The conference began with the Welcome Address by Dr Wolf- Dietrich Müller, Chief Representative and Senior Executive Officer, Messe München GmbH, which was followed by the Opening Remarks by Mr Atul Kulkarni, Advisor (International Projects), Indian Ports Association.
The Keynote Address was given by Dr Veit Steinle, Head of Department for Policy Issues, Federal Ministry of Transport and Digital Infrastructure (Germany). Subsequently, Special Addresses were delivered on key topics by Mr Romil Parikh, Director, Lift & Shift India Pvt. Ltd; Mr Ashish Sheth, Managing Director, Sarjak Container Lines Pvt. Ltd; Mr Anthony Van Der Hoest, Commercial Director-Logistics, Port of Amsterdam; Mr Pradeep Dongre, GM (C & MM) Nuclear Power Corporation of India Ltd, and Capt. B.V.J.K. Sharma, JMD& CEO, JSW Infrastructure Ltd.
There was also a Plenary Session on 'Sustainable logistics solutions and support offered by the German logistics industry'.
INAUGURAL SESSION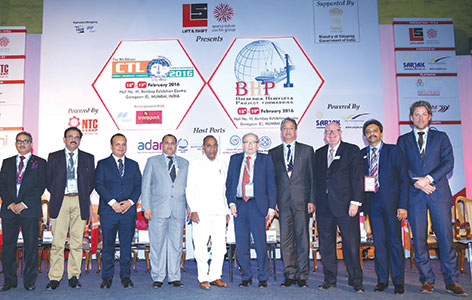 Participants in the inaugural session were (from left) Mr Atul Kulkarni, Mr Pradeep Dongre, Mr Romil Parikh, Capt. B.V.J.K. Sharma, Shri Anant Geete, Dr Veit Steinle, Dr Vishwapati Trivedi, Dr Wolf-Dietrich Müller, Mr Ashish Sheth and Mr Anthony Van Der Hoest
PLENARY SESSION – SUSTAINABLE LOGISTICS SOLUTIONS & SUPPORT OFFERED BY THE GERMAN LOGISTICS INDUSTRY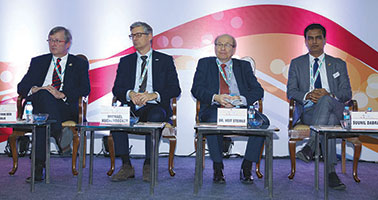 The Germany-focused Plenary Session on Day 1 was addressed by (from left) Mr Willem van der Schalk, Mr Michael Kuchenbecker, Dr Veit Steinle and Mr Suunil Dabral
It was a comprehensive and top-notch line-up of speakers and panelists, including in the two Technical Sessions that followed on Day 1: On 'Adopting Best Global Practices & ensuring Seamless Connectivity in Container Shipping & Logistics Sectors - Challenges & Vision'; and 'Growing HAZCHEM& Dry Bulk Movement in India - Issues & Way Ahead'.
FIRST TECHNICAL SESSION - ADOPTING BEST GLOBAL PRACTICES & ENSURING SEAMLESS CONNECTIVITY IN CONTAINER SHIPPING & LOGISTICS SECTORS - CHALLENGES & VISION

The First Technical Session was graced by (from left) Mr Santosh Pradhan, Ms Geeta Uppal, Mr Xavier Britto, Capt. Deepak Tewari, Mr K. Sathianathan, Mr William Demoor, Mr Willem van der Schalk, Mr Per M. Andersson, Capt. Sandeep Mehta, Mr Samir J. Shah and Mr Vivek Kele
SECOND TECHNICAL SESSION – GROWING HAZCHEM & DRY BULK MOVEMENT IN INDIA – ISSUES & WAY AHEAD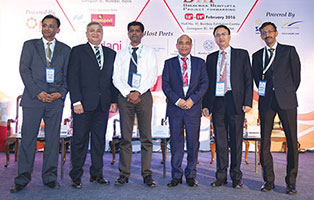 Participants in the Second Technical Session were (from left) Mr Vikas Singhal, Mr Haresh Lalwani, Mr Shashi Kallada, Mr Jaiveer Srivastava, Mr Ashok Jain and Mr Pradeep Nair
The focus on Day 2 was on Break Bulk, Heavy Lift and Project cargo (BHP 2016), with the Inaugural Session deliberating on "Best Global Practices in Break Bulk, Heavy Lift, Project Forwarding & Auto logistics - Global & Indian Overview", followed by the Plenary Session on "Break Bulk, Heavy Lift, ODC& Project Forwarding in India: Challenges & Opportunities".
INAUGURAL SESSION – BEST GLOBAL PRACTICES IN BREAK BULK, HEAVY LIFT, PROJECT FORWARDING & AUTO LOGISTICS - GLOBAL & INDIAN OVERVIEW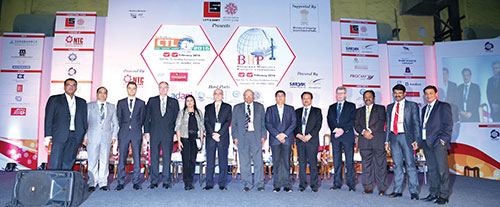 Participants in the BHP 2016 Inaugural Session on Day 2 were (from left) Mr Anurag Chaturvedi, Mr T. G. Ramalingam, Mr Jens Elnegaard Juul, Mr Gerhard Janssen, Ms Sharmila Amin, Mr Armin Kalyaniwalla, Mr S. Hajara, Mr Yashodhan Wanage, Mr Manish Kataria, Mr Jan Peter Esbensen, Mr Suresh Pillay R., Mr Ramesh Babu and Mr Dharmendra Gangrade
PLENARY SESSION – BREAK BULK, HEAVY LIFT, ODC & PROJECT FORWARDING IN INDIA: CHALLENGES & OPPORTUNITIES

The Plenary Session of BHP had as panelists (from left) Mr Animesh Kumar, Mr S.V. Anchan, Mr Denis Bandura, Mr G. Kannan, Ms Jane Nazareth, Mr Gopinath Phargade and Mr H. S. Acharya
Speakers, panelists, delegates and exhibitors from 14 countries, besides India, participated in the event, giving it an international perspective in addition to being the definitive conference and exhibition for the segments in India and globally.
Nearly 90 exhibitors, again both domestic and international, displayed their wares at the expo—products, services and, importantly, the latest innovations and technologies in the sector.
Partnering Exim India in the expo was Messe München, the leading Germany-based organiser of global cargo and logistics exhibitions.
This popular Exim India mega cargo show has received the endorsement and support of the Union Ministry of Shipping.
The expo saw impressive footfalls, with visitors also getting the opportunity to participate in Lucky Draws on both days and win exciting prizes (see list). The Bumper Prize was bagged by Mr Kaustubh Korade, Sales Executive at Worldwide Logistics (India) Pvt. Ltd.
LUCKY DRAW WINNER LIST
Bumper Lucky Draw Winner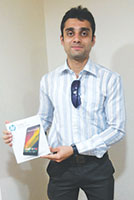 Mr Kaustubh K. Korade, Executive Sales, Worldwide Logistics (India) Pvt. Ltd.
Other Winners
Mr Nikhil Yadav — Apple Freight & Logistics (Smart Booking)
Mr Prashant Samel, Director, Turbo International Freight Systems
Mr Amit Bamne, Executive Sales, Farohar Container Lines Pvt. Ltd
Mr Roshan Poojary, Export Executive, Swani Spice Mills Pvt. Ltd
Mr Raj Dagia, CEO-Technical Advisor, Inditrans Shipping Co. Pvt. Ltd
Mr Sameer P. Barai, Financial Planning & Training , Ekdantaya Money Institute
The sheer number of overall participants meant that there were networking opportunities galore, which was especially availed of by the large number of attendees at the networking cocktails and dinner held at The Leela at day one.
The event not only witnessed great networking opportunities but also many fruitful business deals were generated. In true sense CTL-BHP 2016 emerged as a "Global event" according to delegates. With support from many an event partner and other associates, CTL-BHP 2016 was truly a grand event that facilitated discussion, display, knowledge, suggestions on the way ahead, as well as networking.
The fraternity was there in strength to interact, listen, learn & network
Products & Services at Display in Exhibition Area – Few Snapshots at a glance!
Varied segments of the industry showcased their products & services at CTL-BHP 2016:
EXHIBITORS' PROFILE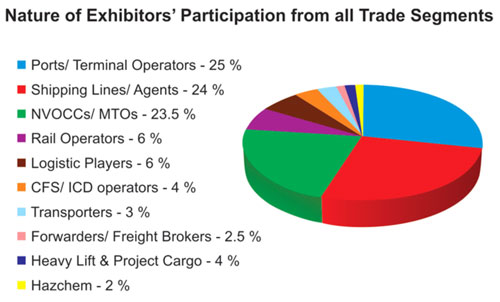 VISITORS' PROFILE
CTL-BHP 2016 saw over 3500 Visitors from various segments of the industry which is depicted as under: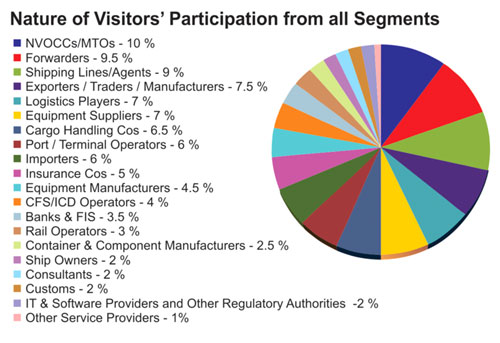 Trade Reviews for past CTL-BHP 2016!
Mr. S. Hajara, Former CMD, The Shipping Corporation of India Ltd. & Chief Advisor, The Elektrans Global
It was a grand function and lot of effort must have gone in making arrangements and getting all the important guests. Heartiest congratulations for the wonderful show.
---
Mr. Ashok Jain, Managing Director, Diamond Shipbrokers Pvt. Ltd.
It was my pleasure to attend this immensely successful conference and exhibition. While the contents and knowledge shared were very useful, it gave very good opportunity for networking with the industry leaders. Thank you very much for giving me the opportunity and congratulations to you and your entire team.
---
Mr. Shashi Kallada, Trainer/Consultant - Dangerous Goods by Rail, Road, River & Sea
I thoroughly enjoyed the highly professional exhibition and conference.
---
Mr. Vivek Kele, Director, Teamglobal Logistics Pvt. Ltd. & President, Association of Multimodal Transport Operators of India
It was good to be part of the panel and learn so many new things.
---
Mr. Anurag Chaturvedi, Assistant Vice President & Head Center of Excellence – Transport, Trade & Logistics, ABB India Ltd.
Heartiest congratulations to you and your team. It was a great event.
---
Mr. Xerxes P. Master, Joint Managing Director, Master Group of Companies
CTL-BHP 2016 event was a runaway success. Every time it gets better and bigger.
My personal compliments to your team and you for the stupendous efforts.
---
Mr. Rajesh Mehta, Executive Director, Liladhar Pasoo Forwarders Pvt. Ltd.
I have always believed that there is something for everyone and these are the efforts invested in the right direction which can bring it all together; CTL 2016 reinstated the belief in me. It gave us a platform to discuss challenges and solutions. EXIM team hospitality and care added the flavour to this event.
---
Mr. Ramesh Babu, Managing Director, Seashell Logistics Pvt. Ltd.
We appreciate the way the programme was arranged and organized.
These are the events which gives the fraternity an opportunity to have get-together along with exchange of viewpoints and keep informed on current information.
---
Mr. Ashish Kumar, Director, PDP Shipping & Projects Ltd.
The concept to organize such a successful and fantastic event like "CTL-BHP 2016"is really benefitting to trade in big ways, a large number of participants and the variety of exhibitions on cargo handling services along with the innovative methods and minimum input costs, are healthy for trade on its growth track. The conference which was parallel to the exhibition, had qualitative discussions over trade and important factors of current down turn with projection of certain recovery by the renowned dignitaries on dais at event, is also fruitful for fraternity.
I hereby thank Exim India and its hard working team for organizing and managing well the programme for continuous nine years, which is now not popular in India only but also in foreign countries the way it gathered the foreign participation, it can be said truly.
---
Mr. Vikas Singhal, Head Logistics (Asia, Middle East and Europe) Gulbrandsen Chemicals Pvt. Ltd.
Heartiest congratulations to you and your team. It was a good event.
---
Mr. Sankaranarayanan, Executive Director, Neptune Container Line And Logistics Pvt. Ltd.
Heartiest congratulations to you and your team of professionals for arranging such a massive project.
---
Ms. Sharmila H. Amin, Managing Director - South Asia India, Bertling Logistics India Pvt. Ltd.
The event was well organized and also the discussions were very fruitful.
---
Mr. M. Kailai, MD, Frontline Containers Pvt. Ltd.
Well organised & fantastic event which have given hopes of revival of the trade (positive energy)